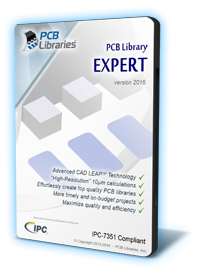 Why waste HOURS creating or searching for 3D models?!
Our software automatically creates 3D STEP models – see samples!
JUST CLICK A BUTTON!!
Make your PCB design projects pop with the Library Expert for 3D STEP! We simplified the creation of 3D parts so much, yourreceptionist can create stunningly high quality 3D parts with 5 minutes of training!
Our FPX file browser allows you to search the database for the component you need, then simply push a button to automatically generate a high-resolution 3D component package in standard STEP format! Used in conjunction with our PCB Library Expert, you can build both footprints and 3D models together. The PCB Library Expert empowers you to make remarkably clean, professional PCB layouts with minimal effort.
Verify your footprint solder joints with accurate 3D models. Visualize the physical component body, the lead forms and polarity markings with how they line up with your silkscreen outline and pad geometry before you manufacture your PCB design. Don't blindly spend big bucks on manufacturing without validating the accuracy of your footprint first. Use 3D technology made possible by PCB Library Expert!
The powerful features of the Library Expert for 3D STEP include:
STEP Format supported: AP203, AP214
Proven to work very nicely with numerous applications that import 3D STEP:
Altium, Cadence, CADSTAR, CR-5000, Expedition, Solid Edge, SolidWorks, and more!
Auto-generate high quality 3D STEP models from component dimensions! wow!!
Specify different colors for various parts of component (body, leads, LED, etc) wow!!
Supports 50+ Surface Mount and Through Hole component families (not freeform)
Integrate with Footprint module for 20 different CAD formats
The 3D STEP model matches the origin and rotation of the FPX Footprint
Our advanced CAD LEAPTM Technology
(Libraries Enhanced with Automated Preferences)
Parts on Demand complimentary access (over 1 million parts)*
Set of unique component packages that may be used with well over 300,000 parts!
New part requests, regardless complexity, only $5 each
All 2016 updates are free!
Ability to create footprints with arbitrary pad shapes and positions
Low cost & FASTEST return on investment
High priority phone, email, or shared desktop support
Perpetual license does not expire; no maintenance
Major future upgrades are optional at 30% cost of of next/new major release
FREE training webinars as needed, one-on-one or group
Add and modify library documentation
User definable preferences or define and customize default rules wow!!
Save component dimensions to a library file
Search, edit, save functions for effective part library management
Flexibility to add, delete, or modify data fields – for example:

Corporate Part Number
Schematic Symbol Name
Created By / Date
Purchased From
Bulk / Piece Price
DigiKey Part Number
Project Name
etc…  (no limit!)
* Complimentary access to POD lasts while user has latest released major version (eg. v2015, v2016, etc); latest version is highly recommended as POD data format is periodically updated to accomodate new Library Expert features.
PLUS all the features of the FREE Library Expert "Lite" edition, which include:
IPC-7351 compliant
Enter component dimensions using Nominal plus tolerance or Min/Max dimensions
Dynamic support for Imperial and metric – easily convert between mil and metric units
Convert units calculator
Apply rules to component families and component terminal lead types
User friendly GUI easy to learn
Padstack editor
Email & forum support
…and more!!
LICENSING & REQUIREMENTS
Single User License
This license entitles you to install and run the software on one local computer. This solution is ideal for the PCB design contractor or companies with one PCB designer. The Single User is licensed on USB key, and can be easily moved to any computer as needed. Contracting and/or always changing computers? No problem, we make it a snap!!
Network License
The Network License is available for all the users you need! It is ideal where library standardization is desired, regardless the CAD formats used. Professionals or novices can now easily create libraries according to company specification and customer requirements.
Risk-free Purchase
Before you purchase anything, you can evaluate the software to see how it works for you. It only takes minutes to evaluate! Contact Us if you have any questions or prefer a walk-through!
System Requirements
MS-Windows based computer, running Windows 8, 7, or Vista (Windows XP may work, but is no longer supported by Microsoft), the Microsoft .NET Framework 4.0 (downloadable from Microsoft), 15MB of hard drive space, a USB port, and display resolution of 1024 x 768.